As
reported by Wired News
, Boeing's best selling airplane this year is not a 737, 777 or 787 but a 44 pound unmanned aerial vehicle that can loiter over an area for up to 24 hours. The
ScanEagle
built by Insitu Systems, a wholly owned Boeing subsidiary is launched by a catapult and recovered using an aerial rope system, allowing the same hardware to be used on land or sea.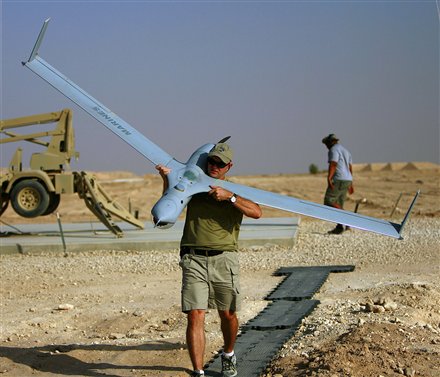 Interestingly, unlike other UAV firms the ScanEagle is not sold as a hardware + support package but is priced based on the number of hours of flight.
Aviation Week has also covered
the use of the ScanEagle in Afghanistan.
Future small UAVs are likely to have the capability for narrowband satellite communications. The Iridium NEXT network should support symmetric data rates in the range of 64 kbps to 128 kbps per mobile terminal, with radio modem and antenna packages small enough to fit on a UAV in the sub 50 kilogram size range. Mobile aircraft data terminals for INMARSAT BGAN service are also decreasing in size, to the point where they can be added unobtrusively to the top fuselage of small business jets (but are still much too bulky for small UAVs). At present small UAVs are for the most part not capable of "over the horizon" missions, despite their flight endurance times. The Ku-band stabilized 4-axis tracking antennas used on aircraft such as the Predator, Reaper (Predator-B) and Global Hawk are significantly bulky and consume hundreds of watts of power.
The second item of interest today is an AP story from the area of Spin Boldak, the main border crossing on the highway between Kandahar and Quetta. The US Army Stryker brigade resident at the Spin Boldak FOB
is field testing General Dynamics' "Land Warrior" wearable PC and C4I system.
It adds about eight pounds to a soldier's already heavy set of equipment, but provides some interesting capabilities. Whether this will find widespread acceptance still remains to be seen...